MANGA KOSHIEN
>> 2022 / 31st MangaKoshien information <<

Official Name: National High School Manga Championship (Since 1992)
Manga Koshien is a competition where high school students compete for the position of Number 1 by creating one-page manga.
About 300 high school teams, comprising three to five students each, enter every year. Of these, 30 teams are selected to go on to the championship round in August. Competing teams battle it out with their ideas, techniques and teamwork, all within a limited amount of time.
Talented students participating in the main round may also be scouted by major manga publishers and perhaps even debut as professionals!
Preliminary
Round
Manga are submitted by high school students from all over Japan as well as and from three countries overseas.
Announcement of Submission Theme

Mid-April
Closing Date

Early June
Announcement of Results

Late June
Only 33 teams (30 from within Japan and one each from South Korea, Singapore and Taiwan) out of the 300 or so teams submitting manga will be selected to participate in the main round.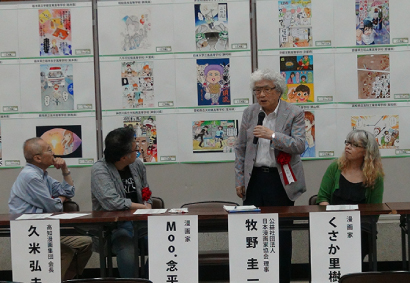 Semifinals
On the first day of the main round, all 33 teams will compete.
One of five possible themes, which will have been previously announced, will be selected just before the competition begins.
Teams have 5 hours and 30 minutes to complete their manga based on the selected theme. Only 15 teams out of the 33 will move onto the finals.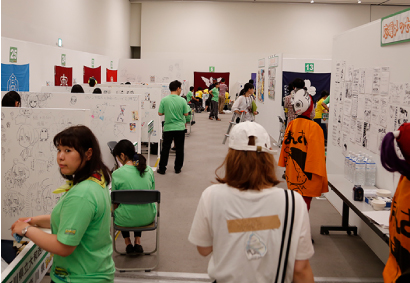 Consolation
Match
On the second day, the 18 teams eliminated in the first round will be given a second chance to compete for the championship.
After the semifinals have ended on the first day, eliminated teams will have until midnight to submit a new work.
Judges and the general public will consider their work, and five out of the 18 teams will be revived to compete in the finals.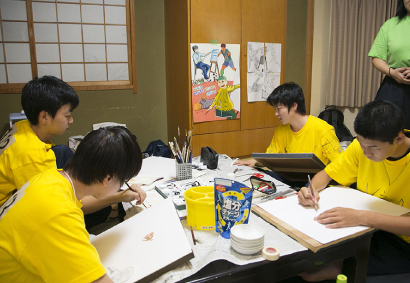 Finals
A total of 20 teams, consisting of the 15 teams who made it through the semifinals and the 5 teams revived from the consolation match, will compete for the championship and the right to call themselves the No. 1 high school manga team!
Teams will be given 5 hours and 30 minutes, during which they will be so focused on drawing, they might even forget about lunch.
A gong will sound when time is up, and then the only thing the teams can do is pray!
First, Second and Third place teams will be selected along with the winning teams of six other prizes.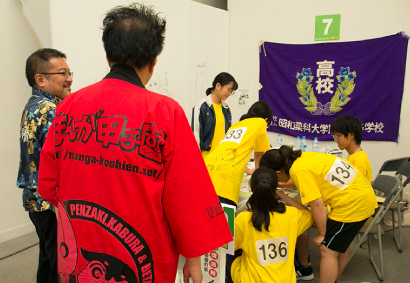 Events
Scouting Professional editors from publishing companies will be present to scout for talented students.
Symposium "Job-hunting! Grab Your Future with Manga!" ~What Awaits You Beyond Learning Manga~
Live drawing Live drawing exhibitions by guest manga artists. See for yourselves the speed and talent of famous artists.
Owarai Manga Dojo A manga training session. Teachers show how to draw manga while talking humorously about their art.
On-site Editorial Departments
Professional editors will be present to evaluate work brought to the event, not just by participating schools and students, but anyone present. This is a rare opportunity for aspiring manga artists, for if you catch the editors' eyes, you may even get a chance to become a professional manga creator!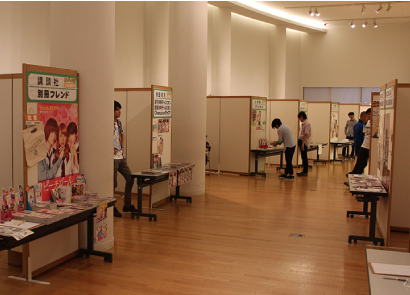 for the 26th Manga Koshien
Promotional Corners
I-C Corner
Manga FeaLocal High School Student
Kuroshio Manga Grand Prize Award Ceremony
Exhibition of Preliminary Round Entries for the Manga Koshien
Japan Cartoonists Association Corner
Kaiyodo Hobby Museum Shimanto/Kappa Museum Display Corner
Facial Caricature Corner
National Manken Library
Manga Reading Corner
Graffiti Corner
.
for the 26th Manga Koshien
Businesses and Groups Corner
Manga Kingdom Tottori
Mansai
Association for Municipality Promotion
Kinkodo Book Store
Wacom
Celsys, Inc.
Hobby Japan Co., Ltd.
Human Academy Co., Ltd.
Kawahara Design and Art College
Osaka Sogo College of Design
College of International Design and Beauty